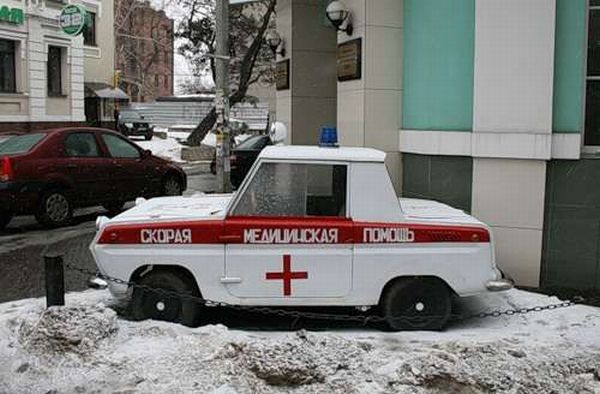 Ambulances have one purpose, and that is to ferry the injured to the hospital for treatment. However, there are some unusual ways of carrying the task out and here is a selection.
Mercedes-Benz AMG Ambulance
The AMG is designed specifically for Formula One use, for transporting injured drivers to the hospital in the quickest time. It sports a V8 6.3-litre engine and has a top speed of more than 155mph. The Merc has gull wing doors with explosive hinges that are designed to blow off in the event of a rollover.
The Largest
The largest ambulance is a converted bus that is operated by the Dubai Government. It measures over 65 feet in length and can deal with 123 staff and patients simultaneously. It could be argued that the bus is eclipsed by the US Navy's 'Mercy' ship but that qualifies more like a floating hospital.
Kitten 999
The 'Kitten 999' is operated by Bristol Paramedic Ambulance Service. Based on a Reliant Kitten it is fully kitted out with all the necessary equipment albeit in miniature scale. Its diminutive size means that it is not suitable for actual ambulance use but is employed to visit schools and health & Safety meetings.
The Monster Ambulance
The Monster is an armoured ambulance based in Russia. It features a fully kitted functional armoured body and monster truck tyres, giving it the ability to handle any terrain.
he Greenest
Scotland has introduced the first electrically powered ambulance that is primarily employed to transport patients with mobility issues between home and hospital. It has a top speed of 65 mph and can travel 100 miles between charges. Its electric power source means it is quieter and very ecologically friendly.
The Most Luxurious
At $350 per hour, this ambulance probably qualifies as the most expensive too. From the outside it looks like a stretched limousine; however, it features a specially designed chassis and extra-wide tyres that give it an incredibly smooth ride. Inside, it features a chef, wi-fi, satellite television and the internet. The limo is designed for the well-heeled customer, and with a masseur plus a personal attendant available, it is not hard to see why this qualifies as the most impressive way to travel to your hospital appointment.