Television Unit and Film Medical Services
At Outdoor Medical Solutions we have vast experience of providing professional film medical cover and medical services to the television industry.
We are fully committed to providing you with a reliable, high quality and cost effective service and can ensure our prices are all inclusive. We are able to offer advice and information on all aspects of medical safety on TV and film production sets and locations. We can also provide cover for set builds and de rigs.
Our fully qualified, professional staff members are available for short and long term contracts and last minute cover for unforeseen circumstances is readily available.
No film or TV production is too big or too small for Outdoor Medical Solutions so contact us for a competitive quote.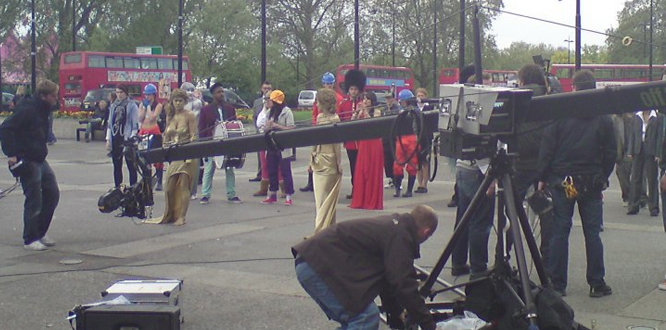 Recent Film and TV Credits
Merlin (BBC)
Ellen (film)
BBC Idents
The White Princess (film)
Kingsman 2 (film)
Noels SOS
Broadchurch
Kaleidoscope Man (film)
Trollied
ALYS
BBC Orchestra
Framed (BBC)
Live and Deadly (BBC)
Countryfile (BBC)
Street Dance 2 (Film)
Hammer Of The Gods (Film)
Whites (BBC)
Flick (Film)
Downton Abbey (ITV)
The Jury (ITV)
Skins (E4)
Pobol Y Cwm (S4C)
Tinker, Tailor, Soldier, Spy (Working Title Films)
Dr  Who (BBC)
1800 love (Bollywood)
Belonging (BBC)
Torchwood (BBC)
The Big I Am (Film)
Medical Cover for Film and TV Sets
Outdoor Medical Solutions can deliver a broad range of tv and film medical services to film and TV production sets. Through the years we have produced medical cover for a variety of TV and films. This can vary from single medics to complete medical and ambulance services for big productions.
Why not read about us on trusted film and tv company 4frv's website.
Film Medical Staff
We aim to provide you with an outstanding reliable film medical service from a team of professional health care providers with access to a wide range of medical control. We are available 24 hours a day 365 days a year for advice and direction when needed.
IHCD Ambulance Technician
Our IHCD Ambulance Technician's provide the following skills set including but not limited to:
Airway Management – Oxygen therapy
Symptom relief medications (10 to 12 medications)
12-lead ECG monitoring/defibrillator/pulse oximetry
Trauma Management – Traction device
Paramedics
Advance Care Paramedics deploys with the following skill set consisting of but not limited to:
IV therapy – Fluid resuscitation
Trauma management – Needle decompression – Traction device
12-lead ECG interpretation – Defibrillation – Pacing
Advanced life support & pain management medications (40 medications)
Contact an event manager on
01291 440 299
for a competitive quote today and find out what Outdoor Medical Solutions Ltd's motorsport medical cover can for you and your event today.