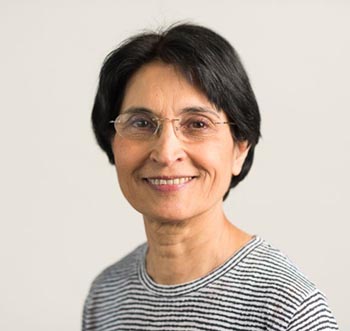 Dr Alsharif qualified from the University of Bristol as a medical doctor in 1996. After medical training she began her career as a GP, where her interest in musculoskeletal disorders and sport injuries led her to specialise further in Sports and Exercise Medicine with a master degree in Sports and Exercise Medicine from the University of Bath. She has been the Bath City Football Club Doctor since 2002, and has been providing medical cover to the local amateur athletic and boxing clubs and seeing safe MMA competitors.
Her work has involved a wide range of input for elite athletes, professional and recreational performers including screening, health promotion and performance enhancement, illness and injury prevention, diagnosis and management of injuries through to return to full fitness.
​Alongside Sports medicine and medical activities, Mahnaz has a PhD in Biochemistry from University of Bath with three years post-doctoral research in molecular genetics. She has an interest in the genetics and biochemistry of fitness and physical performance with particular reference to nutrigenomics and epigenetics.
Current positions
Medical director to Outdoor Medical Solution (OMS) Ltd.
Bath City Football Club doctor.
NHS GP.
Background
MBChB (University of Bristol)
JCPTGP
MSc in sport and Exercise Medicine (University Bath)
Diploma in diagnostic Musculoskeletal Ultrasound Scan (Bournemouth University, Centre for Ultrasound Studies)
PhD in Biochemistry/Molecular genetics (University of Bath)
BSc in Biochemistry (university of Sussex)
PGC in Ageing Health and Disease (University of Cardiff)
Research Interests
Biochemistry and Genetics of athletic performance.
Professional Memberships
Faculty of Sport and Exercise Medicine (UK)
UK Association of Doctors in Sport (UKADIS)
Bath GP Education Research Trust (BGPERT)
British Medical Association (BMA)
British Society of Life Style Medicine (BSLM)
Sports Medicine Group South West