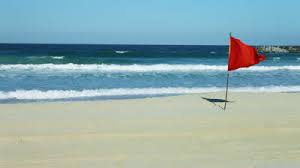 What's not to love about the beach? Golden sands, azure waters and gorgeous sunny weather are all typical of a tropical beach getaway. However, lurking behind the beautiful scenery are a number of dangers that can put you and your family's life at risk. When visiting any type of beach it is important that you are aware of the potential hazards, and that you take steps in order to minimize them in order to have a safe and fun day out. Read on to find out the seven hidden dangers at the beach.
Sunburn
Ultra violet radiation from the sun can have harmful effects on the skin, so avoid laying out in direct sunlight between the hours of 1am and 4pm when the sun is at it's strongest. You should also take care to use the correct sunscreen, protect your eyes with UV lense glasses and keep the sun off your face with a hat.
Rip Currents
Rip currents, also called riptides, are powerful water currents which have the ability to sweep away even the strongest of swimmers. To avoid this, choose a beach which has lifeguards and a safe swimming area and avoid swimming alone or at night.
Clean Water
Another hazard is unclean water. Storms, spills, and sewage leaks can all lead to dangerous levels of bacteria and harmful particles in the water which can make you very sick. Stick to beaches which are regulated and tested for environmental safety issues, and avoid swimming in areas near to discharge pipes.
Coconuts
Another thing to watch out on tropical beaches is falling coconuts. To avoid this threat simply place your towel away from the palm trees.
Jellyfish
Some jellyfish will leave you with a nasty rash, while others like box jellyfish can potentially kill with one sting. In high-risk areas, such on some Northern Australian beaches, there are warnings as to when and where to swim to avoid these creatures. Always do some research and check if jellyfish are a threat when you are planning your beach visit.
Shore Breaks and Waves
Shore breaks are where waves break onto the sand in shallow water. They may look harmless but some shore breaks will carry a lot of force with them which can sweep swimmers out into deeper water. Lifeguards will put up a warning when shore breaks are a potential dangers to swimmers.
Sharks
Shark attacks are extremely rare. In fact, for every 1 person killed by a shark, humans kills two million sharks! However, in some areas sharks do pose a serious threat to swimmers. If you are visiting a high risk beach in Australia or South Africa then always follow lifeguard warnings and avoid swimming if you have any open wounds.
Follow the above tips and you will be well on your way to having a lovely day out at the beach. Happy holidays!